Vegan and Vegetarian Thai Food
Som Tam (Spicy Papaya Salad) – Vegan
The spicy papaya salad is a distinctive Thai dish made of garlic, raw papaya, chilies and cherry tomatoes. Regional vafriations may include peanuts and geen beans in the mix.
Pad Thai – Vegetarian or Vegan
Pad Thai is the delicous fry noodle Thai dish famous all over the word. You can choose the version with eggs – for the vegetarian version of the Pad Thai – the one with tofu or with only vegetables. The noodles sauces is based on chili powder, peanuts, sugar, soya sauce and lemon, mixed with onion, carror and crunchy beansprouts.
Pad Phuk Tong – Vegetarian or Vegan
Pad Phuk Tong is a stir fry based on pumpkins that is usually eaten as a side dish or as a main with turmeric rice, chapattis or flat bread. Pad Phuk Tong is made of simple and fresh ingredients: squash, garlic, sugar, soy sauce and Thai basil. A vegetarian variation with eggs is also available.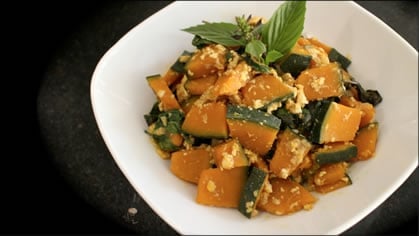 Pak Boong (Vegetable Stir Fry) – Vegan
Pak Boong is a delicous crunchy vegetable stir fry. Also called "Morning Glory" this is one of the most healthy vegan dishes you can find in Thailand, without compromising the typical Thai flavours. Pak Boong is usually made of spinach, geen leaves and chilies. Ask for the vesion withour fish sauce.
Vegetarian Curries – Vegan
Thailand is famous for his spicy curries full of flavour. If you are into spicy food, go for the Panang or Massaman curries, ad these are really hot! The vegetarian curries contain coriander, kaffir, tofu, coconut milk and Thai vegetables.